Luxury Amenities at Aristocrat Motors


Whether you're bringing your vehicle into a service center for standard maintenance, having a repair done or waiting on demonstration and delivery, having a welcome and inviting place to relax is important. As the greater Kansas City region's premier Mercedes-Benz dealership, we recognize that the luxury and refinement for which you are choosing or have chosen your Mercedes-Benz vehicle should extend through every part of your vehicle's delivery and/or servicing process.
From our service center lounge area to our delivery door, we've worked hard to build a showroom and service center experience that echoes the luxury, sophistication, and performance for which Mercedes-Benz is renowned. Step inside, and you'll feel it. The experience at Aristocrat Motors is truly a unique one and invites you to take a step back from the speed and pace of regular life and just enjoy the thoughtful design and client-centered amenities.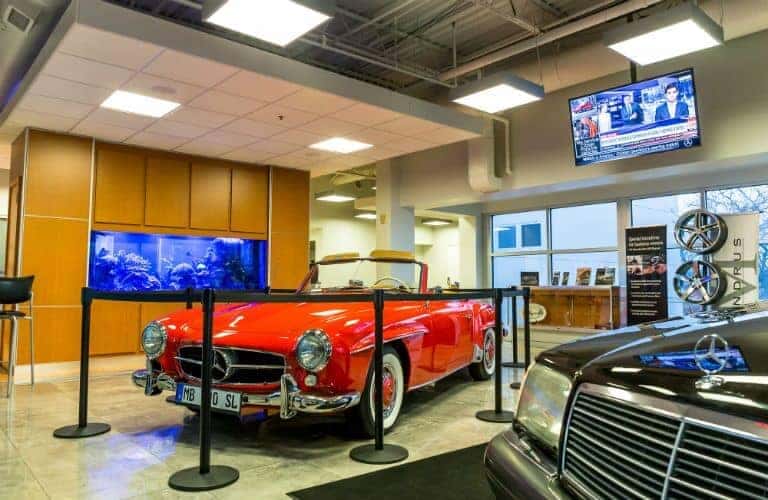 Amenities at Aristocrat Motors
Among these amenities, you'll find the following items in which we take pride:
Expertly-Trained Sales Team
With several models available, Mercedes-Benz lineup features a range of style, performance, and comfort options. Working with an honest sales team who knows the complexities of these models and who can communicate them in relation to your individualized wants and needs is central to our hiring, training, and career-pathing processes.
Highly-Experienced Factory-Trained Service Technicians
Understanding the weight of responsibility for every vehicle that arrives at our intake, we've worked hard to build a team of factory-trained Mercedes-Benz service technicians with decades of shared experience. When you bring your Mercedes-Benz into Aristocrat Motors, you're trusting a team that uniquely understands the special engineering and design of Mercedes-Benz vehicles.
Dedicated Delivery Specialists
Leasing or purchasing a Mercedes-Benz vehicle is a truly distinct experience from those of other manufacturers. Your Mercedes-Benz is engineered and designed to be a hallmark in passenger comfort, convenience and automotive performance. For that reason, our expertly-trained team will go over everything you'll need to know about your new vehicle to get the most out of it – from the composed and compact A-Class sedan all the way up to the brawny and ready-for-anything G-Class SUV.
Multiple Luxurious Waiting Rooms
Extending the comfort and convenience of Mercedes-Benz engineering to our waiting areas has been an achievement in which we take a lot of pride. When you decide to spend some time in our waiting areas, you'll find comfortable seating, complimentary snacks and beverages, complimentary lunch for service customers, fast wi-fi with business-centered seating areas, and more. Crafting an experience is at the heart of everything Mercedes-Benz builds. We've done the same.
Experience Aristocrat Luxury Today
At Aristocrat Motors, we give you more than just a first-class client experience. We've built this experience into every facet of your interaction with our dealership. From the coffee you'll drink in our service area, to the heated and air-conditioned demonstration/delivery area, you'll find the characteristic Mercedes-Benz thoughtfulness and style to be a part of everything we do.
For more information on what we offer at Aristocrat Motors or to schedule a test drive with a new Mercedes-Benz model, contact us today
Contact Us Today!